An engineering company has been fined after two workers were seriously injured after being thrown from the chuck of a large vertical boring machine.
Birmingham Magistrates' Court heard that on 5 September 2018, two employees of Sulzer Electro Mechanical Services (UK) Limited, were standing on the chuck of a large vertical boring machine at a site in Bordesley, Birmingham, to set it. The start button was inadvertently pressed and, despite the interlocked perimeter fencing access doors being open, the chuck started to rotate.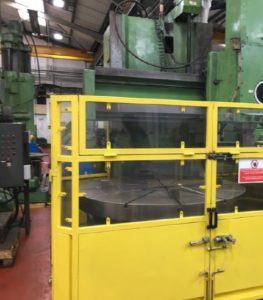 An investigation by the Health and Safety Executive (HSE) into the incident found that the interlocks on the perimeter fencing access doors were not working, and there were no safety checks in place to ensure that the interlocks were in working order.
Sulzer Electro Mechanical Services (UK) Limited of Camp Hill, Bordesley, Birmingham pleaded guilty to breaching Section 2(1) of the Health and Safety at Work Act 1974. The company has been fined £86,000 and ordered to pay costs of £2,111.48.
Speaking after the hearing, HSE inspector Christopher Maher said "We hope that as a result of this case, industry will better understand the importance of maintaining effective control measures.
"It is important that guarding arrangements, including interlocks, are checked regularly, to ensure that they are in good repair and efficient working order."
HSADD Say's: This case is a typical one where the Company has failed to make sure that checks were made to ensure that the interlocks work as they should do, regular checks on these should be a daily, weekly or monthly dependent upon the risk involved.
An easy to deal with the issue that could easily have been dealt with by way of our ISITCHECKED paperless checklist system.
Doing the Math, the fine and costs, plus a likely 20% increase in Insurance premium for the following few years would pay for ISITCHECKED for around 102 years!! Makes our product seem very cost-effective!!
Credit to the article to HSE https://press.hse.gov.uk/2019/11/29/engineering-company-fined-after-two-workers-suffer-serious-injuries-2/